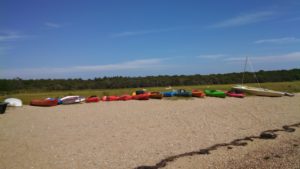 Got to live another cliché on Sunday.
My dad had the boatyard near the causeway to West Island bottom paint his little sailboat and put it in the water for him again this year. After several successive years of trying to step the mast ourselves while the boat was on the beach, this is a decision I applaud with great verve.
A metal mast for a 16 foot boat is not terribly heavy, until you try and slowly raise it from parallel to the ground to perpendicular to the ground and thread it through a hole juuuuuuust big enough for it to fit. With exactly no margin for error.