Another kind of love song.
There was no singing today.
There should have been. One of the traditions that Carrie brought with her into our marriage is calling family members on their birthdays to sing the happy birthday song, sometimes in tune, sometimes in time, sometimes both.
Such a thing never would have occurred in the Traub house growing up. That is less a good thing or a bad thing than it is just a thing. But the Carters never missed the chance to call and sing, and that practice is now as deeply rooted in our house as brushing our teeth before bed.
In the Traub house coming up, it was all about the cake, and singing before the candles got blown to smoke.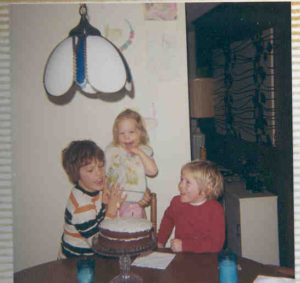 But my mother's 75th birthday came and went with no one to sing to today. I heard her voice just yesterday. Woke to it, actually, my first mom-dream. For reasons obscure, as the reasons in dreams so often are, my wife and daughter were occupied doing something or another and my father, in the dream, was walking away from me toward my kitchen, implausibly,  to make himself something to eat. As I watched him walk toward the light, my dream-self called my mother – somehow knowing that she had undergone a chemo infusion in the morning. In that instantaneous way dreams work, I called and we were on the phone all at once, her voice was battered and weak but still, like her, unvanquished.
"So I guess this means I can't come and take you to dinner," I said, or maybe telepathized – however it is one communicates in dreams.
Her weary voice was succinct without being sharp: "No. The time for that is over."
I was very, very cold when I woke. Within a moment or two, I knew there would be no more sleeping and came down stairs to make the coffee and show the cat some love.
I don't believe that there is magic in dreams. I suspect that they are just the collisions of the problems and passions of the waking mind colliding with the random firings of the brain doing it's evening  housecleaning – shaking out dusty blankets and washing the whiskers from the sink.
There was no dramatic moment. Last year, I stood in the aisle of the pharmacy closest to my office holding a birthday card and feeling my feet turn to lead. I knew that I was holding my mother's last birthday card. I get cards from that pharmacy all the time, then walk across the street to the Islington Square post office. I don't remember what the card said, but the cinematic moment that swirled around it is still vivid a year and a few days later. Walking, robot-like, through the action of putting a witty line in the card, addressing, stamping and mailing it, is still fresh.
That night, I told Carrie about it. About freezing. About knowing. "You don't know that. Really know it. Do you?" she asked. I did.
An old high school friend lost his mom this week – suddenly, unlike my mom's long, slow, dance with death.  He had sent me his condolences in December. This week, we traded a few lines of text over the monstrously impersonal internet. He is a mountain of a man, a husband, a father. He said he felt like he was 10 years old. That he wasn't ready to lose her. He was finding momentary comfort in good whisky, which is not a remedy that works for me. I offered that managing the impact on his kids, the impact on his wife and the logistics of it all would squeeze out any ability for him to actually mourn and feel. His reply used the words "nail on head."
It doesn't get better, my brother, but it gets different.
I drove the road that separates that pharmacy from that post office today after spending my lunch break in the barber's chair. I don't know that I resented the pharmacy, or the road, or the post office. But there was something bleak. And it was clear that I had no reason to browse the cards, or stand in line at the post office.
The time for that is over.