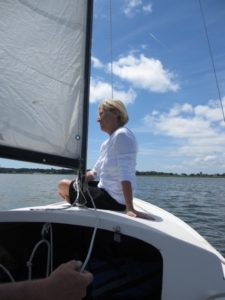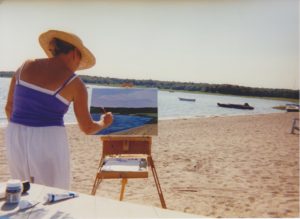 I still don't know why we were forbidden from going into my mother's purse.
We were not a house of taboo places. Other than Christmas-present-hiding-season, no part of the house we grew up in wasn't all of ours.
On some rare occasion that had me, with explicit permission,  fishing in my mother's wallet to get cash for something, I found a surprise.  I was only a boy. There was a white paper, folded many times, with a poem typed on it: e.e. cummings' masterful "maggie and millie and molly and may."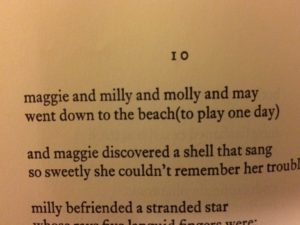 It was the only poem my mother carried. It was the only poem I can name that she liked. Decades later I would commit it to memory for my own sake. Decades after that, it is still there. I can recite it, but never recall his exotic punctuation with any precision.
It is not at all clear why that poem and that piece of paper have been circling my mind and my attention this week. Of all the things to focus on as Friday,  the first anniversary of my mother's passing,  impends, I am thinking of four imaginary little girls going to the beach to play. The poem is an excellent instance of cummings' peculiar form of brilliance, where simplicity proves the ultimate form of sophistication. Each of the girls goes to the same beach, for the same purpose, on the same day, in the same company. Maggie finds elegance, relaxation and escape. Millie finds a creature, both inert and alive, on which she can beam her empathy. Molly becomes frightened by a threat that is no threat and May finds transcendence in the simplest of things. It reads like a ditty, easily sung in 4/4 time over a tinkling guitar or piano.
And then it closes with a couplet:
                                      For whatever we lose (like a you or a me)
                                      it's always ourselves we find in the sea.
I was thinking of all that as I drove to work yesterday, counting down the hours until I would walk out of work Thursday afternoon, forward the on-call phone to someone else, and just be David for a day. It so moved me, inert and blocked as I was by a red light, that I contemplated pulling into a parking lot to compose myself. Instead, the light turned green.
For years, I have toyed with the thought of teasing cummings' (exactly) 92 words into a novel. Recast the little girls of my mind's eye as women coming together to the seaside for a wedding, funeral or some reunion. They sit at the same table, having the same conversations, but their essential natures color the experience into four perfectly different narratives.
More than 20 years ago, I had my eyes closed tight, trying to find some sleep on a coach bus headed out of Paris to some forgotten abbey or chateau. Another American student was talking to a friend in the seat behind me, saying "I think Paris is sadly romantic…." Even then, I knew that Paris is an explosion of potential and magic and light. It was she, unsuccessful in finding dashing company, who was sadly romantic. She and I went to the same beach; one found a shell that sang.
Over the years, I've wondered what my mother loved about that poem. I never managed to ask if it was what I loved. If it was the notion of holding a smooth round stone as small as the world and as large as alone. Or the perpetual center and renewal the ocean offers to any who will take it. What part of her inner life came to life in the words.
Or maybe, like so much of life, she loved it all.