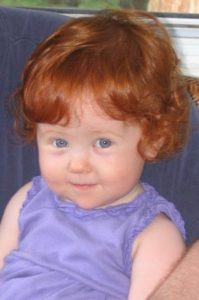 In my favorite picture of myself, you cannot see my face.
A little bit of my shoulder is visible in a soft blue t-shirt. At the center of the photo are two blue eyes, some red curls, and you. I am reading aloud to you on the back sun porch in Norwood that we had repainted and made into your play room.
You are 15 months old in the photo. They had been fifteen months when we had been together every single day. I had read to you every single day, sang to you every day of those 15 months.  We knew each other pretty well by the end of those 15 months, and I understood exactly what that expression on your face meant as you lean back into my soft shoulder, listen to me,  and look up at mom's camera: I am happy here. I am safe here. My daddy loves me. And he has always loved me.
That picture makes me feel proud not because it documents what I look like, but because it documents who I am. Because of you.
Since you asked me, out of curiosity, if I would be continuing my recent thread and writing an essay about you on your birthday, I have been thinking about all of the things I could say. It is like looking out at a field of wildflowers that stretches out into the distance. Which one to pick. Which one to pick.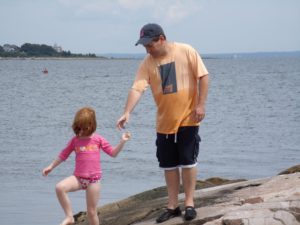 I thought about it again last night, when we were hanging out before you fell asleep. I thought of the picture that Jay took of us out on Pea Island when you were six. He posted it to Facebook. My response in his comment section was "Metaphor for my life." And it is. In the picture, you are moving bravely in the direction of independence, exploration and freedom. And I am standing behind you, knowing that you are not going to fall but not yet ready to stop being the hand you hold, the safety net below your high wire walk, the hand steadying your bike as you pedal.
Six years later, that is still true. There are also things you don't know; you may not remember, but on the first day of middle school this year you walked out the front door into the sunshine and you did not look back. You marched forward into the next stage in your life. Whatever fear was with you, you pushed aside like snow brushed off the end of a driveway.  What you missed by not looking back was the sight of me sitting on our red brick stairs with tears streaming down my face. Not because you didn't look back, or because I had worries for you, but I think because my grade-schooler was walking away forever and a middle schooler would come home at night to ask what was for dinner.
So now you are 12. What I can never quite explain is that for me you are also still six, and we are still on Pea Island. And you are seven months old as we play our first ever game of catch with a fuzzy soft ball that unzips into a puppet.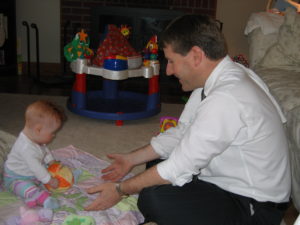 And you are standing by my hospital bed, making me feel better just by being with me. Because the love and the kindness between us do not all flow one way.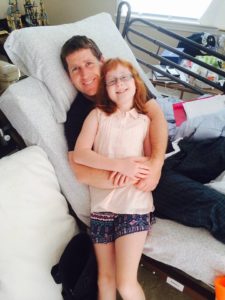 Somehow, you are also the 18-year-old who will one day choose a college. And the 30-year-old who will take a break from her job to hug me on the day I retire. On that day, you will still be the girl who sat across from me to play catch. And you will be just old enough to hold my finger as I sing you to sleep:
Dream with me
We'll wake in better days
We'll build a boat
And we'll hope that it floats
And we'll sail
We'll sail away.
Grown-ups who are happy, really happy, in their grown-up relationships often say things similar to this about their spouses: I like who I am when I am with them. That goes a long way in describing how I feel about your mom. She makes me want to be kind. She makes me want to be soft. And to be patient. And to really listen, to learn, and to change when I should change.
As we get older, that is also true for you. I like who I am when I am with you. You make me want to be patient. To be kind. And to love.
I do so wish I could pick all of the wildflowers and hand them to you in a bouquet for your birthday. The sad thing about wild flowers, though, is that once you pick them they do not last very long in a vase. They thrive only as long as they keep growing.
What I hope that I provide to you, as we plant more and more candles on your cakes, is the freedom and the support to keep growing. To keep becoming who you are, who you want to be. To walk boldly in the direction of your freedom, your story, your independence. But always feeling me behind you, right there to give you more help and hope and support than you probably need. I want so much for you to always feel what you felt in that picture. I am happy here. I am safe here. My daddy loves me. And he has always loved me.
Happy birthday bel ange.
Together let's race in the direction of your future. On your mark, get set, let's go.