It was posed as an innocent question, entirely without baggage: "Daddy, do you ever write in that journal?"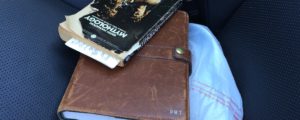 We were making the 15 minute drive to her summer camp, where she fills her days in singing, acting, film and music classes led by passionate, talented teachers. This camp session, one of her six classes is a writer's workshop. I've not yet been let into the circle of knowing what they talk about there.
Innocent or not, the question gave me a little jolt. "Sometimes," was the best answer I could muster. The journal was on the front seat, sidling up against the book I'm reading a very few pages at a time. In truth, it had been weeks since I'd written a line in the journal, and likely weeks before that. It has been years since journaling has been part of my writing or spiritual discipline. It may be ten years or more since I wrote three days in a row. But I carry it most every day.
In my early 20s, particularly when I lived in France and the years that followed, I wrote two and three times a day. That is why my mom, some Christmas in the 1990s, gave me the monogrammed journal cover in the photo. Where I used to fill two or three volumes a year, I am only half way through the blank pages in this one – and the first entry is dated 1999, sitting on the balcony of my then-single brother's then-apartment in Las Vegas, looking out at the re-creation of the Eiffel Tower.
Journaling was crucial in my 20s. I ricocheted out of my teens (to re-purpose the name of an old country song) going 90 miles an hour down a dead end street. Not only in my behavior, but in the way my mind worked. Worked is the wrong word – raced.
I thought fast, I talked fast, I decided fast – and often erroneously. An older friend and confidant challenged me, once, to sit still for 5 whole minutes doing nothing. I tried that night, and found myself standing playing the guitar before the 5 minutes were up, with no clear memory of getting out of the rocking chair, putting the strap over my neck, taking the pick or choosing a song.
Journaling was the antipode of that. Most every entry in every journal has been written with a pen just like this one. I am on my 5th or 10th version across 25 years.
I choose that kind of pen for the same reason I journal – it makes me slow down. As I wrote in those years, the swirling blackness of anger, loss or sadness would become a single, linear thread. The rush of joy or success would enjoy its time floating above real life, but then gently touch ground again as the words moved from left to right on the page, line after line.
Her question seemed like a good reason to re-read Joan Didion's essay "On Keeping a Notebook," which contains one of the turns of phrase I have long used to make sense of my life: "I think we are well advised to keep on nodding terms with the people we used to be, whether we find them attractive company or not."  (That phrase has, somehow, become inextricably linked for me with Kurt Vonnegut's line from Mother Night "We are what we pretend to be, so we must be careful what we pretend to be.")
If we credit Didion's essay, the reasons she keeps a notebook little resemble my use for a journal. She has scraps of dialog overheard near a Delaware train station and a recipe for sauerkraut.  She records fits and snatches of other people's lives.
I produced a thousand pages of none-of-that.
Though I could not have articulated it then, my use, then, for a journal is captured perfectly by the line used by Joseph Garcin, the male character in Sartre's Huis Clos (No Exit) when he wants to retreat from the conversation around him "Il faut que je mette ma vie en ordre," translated roughly:  I've got to put my life in order.
And that is what it did – not only in moments of angst or confusion, but in gap times waiting for a  train, waiting for a meal, waiting to be tired enough to sleep. There was no Facebook or Twitter to check, so I checked in on me. As I type now, I see why I no longer use the journal. First, my life is more or less in order. Those questions have been answered. Yes, the victories and defeats of childhood faded and become little more than footnotes and stories lightly shared with old friends. Yes, I found true love – in the front room of the library at Holy Cross, to be exact. And by waiting, politely if not patiently, not for days but for years, love become marriage and that marriage brought me happiness and contentment I could not glimpse from the valley. Or even from the altar. Happily ever after came. And by allowing me, maybe demanding of me, to be whom I really am, the pretty girl from the library at Holy Cross has taught me who I really am.
That begs the question, then, why the journal goes back and forth to work with me, comes on vacation, sits by my bed at night. I have a walker and crutches wrapped in trash bags and stored in my attic because I know I won't need them any time soon. They got me through when I needed them, but that time has passed and I know it has passed.
When I was drafting The Splendid Children, there were several plot points I recorded in the journal to revisit later. There are plot outlines for other stories. Somehow, I suppose, the journal has transformed from an instrument for looking back, or looking inward, to looking forward.
That I carry with me.