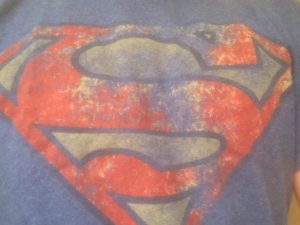 My current shirt and mood
I have lost track of how many times I have declared my novel "finished."
There was the first-draft-finished, which I think was about June of 2015. Then there was the editing "finished" about a year later. Then I gave it to an extremely bright, articulate, woman with an English degree. She read it and found holes and problems that I was completely blind to.
It has taken more than a year to fix those holes. It has been an eventful year, and there were whole months when it sat inert and sad in the guts of my laptop. But the holes are now patched as well as my tools will patch them.
Today was a marathon. I arranged coverage at work so that I wasn't even on call. I dropped my daughter at camp before 9 a.m., scored a couple of ham, egg and cheese sandwiches and a big black coffee from Dunkin Donuts and was working by 10 a.m. I did not rise except to make coffee, tea and a turkey sandwich. By 4 p.m., I was on page 202 of 202 in the editing process. I kissed my wife on the head and went for a walk to clear mine. We ate a salad and some soup on the deck, I spent another half hour on the restructured last chapter and, suddenly, I had nothing left to do.
I may put a copy in the mail tomorrow to an unsuspecting friend. I may call a published author I admire, and who is kind enough to take my calls, and ask about the next step in the process. But tonight, I will sleep like the dead. My mind is tired, but I feel like I have broken the tape at the end of an epic race. The relief may be illusory. Feedback from other quarters may have me back editing and rewriting before I know it. But for tonight, for the first time in a long time, I will not fall asleep with regret.
Now is a good time to admit that I was blithely dismissive, two years ago, of all the writers who said that writing is really about editing….and that editing is the real test.
Importantly, I no longer feel like returning to the writing process is undermining the editing process. I can dust off the second novel ideas that I have started and paused, or jotted notes for in my midnight scribble.
It is quite a feeling.