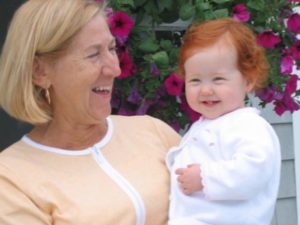 Carol Wagner Traub 1942-2016
Slow Train Coming
I have, in a sense, been waiting for this since I was a 4-year-old little boy who didn't really understand why mommy was going to the hospital and I was sleeping at Uncle Ronnie's. After the mastectomy that granted her another 42 years, her sons and infant daughter were brought to see her at the hospital. Among my earliest memories is hugging her in her wheelchair there and crying as I said: "Mommy, don't ever run away again."
She never did.
I have largely kept my composure in the 54 hours since my father's phone call. My voice has gone hoarse, the way it does, during some of the phone calls and the conversations with my daughter, who loved her Memere as I loved my Memere before her. My siblings and I, and even to an extent my Dad, are hiding in the forest of tasks that follow a death. Where will we meet to mourn? Who will be there? Has anyone called Rachel? Barbara?
It is so much easier to do than to feel. I have no doubt that the sadness will again lift me off my feet like a rogue wave. It did in the days before I took my final flight to see her in November. It did in the days after I had returned, as her voice on the phone became less and less her own. I closed the door to my office and wept with my face in my hands. My door closed, as if there were something unmanly about loving your mother, or being so urgently, violently human that you let yourself feel.
I keep reminding myself that there is no map for this. A touching number of people have reached out to me, some across years. My best friend from high school sent me a text when he read the news: "I can be there in 40 minutes." My best friend from college cut me off on the phone as I was talking about all the things I needed to do for my father, my daughter, my wife; Dan said "Let me stop you. Who do you need?" My best friend from childhood called me again tonight, just to see how I was doing.  "Whatever you need…" He meant it.
In addition to being sad, all three of us are sick. I got it first, then my daughter, and now Carrie. By 9 something tonight, after a whirlwind of a day helping others – especially me and our daughter – Carrie was done and just needed to lay her body down. "Come and talk to me first," she said, propping her head on a pillow, visibly miserable. "How was today for you?"
Without her, it would have been a disaster. With her, I was fine. I am fine.
My mother, who adored and respected Carrie almost as much as I do, sort of predicted that.
I had to help my mom sit up in her hospital bed when it was time for us to say goodbye before I left for the airport in November, knowing that was likely the last visit. Most of what we talked about I keep for myself. But the topic came around to the wonder that is my wife. My mother told me it was much easier to go knowing that she had really done her job. She didn't say the words, but she had raised me to find, and almost deserve, a woman who almost magically patches the leaks in the hull of my life – often before I even know I'm taking on water.
My mother was never very subtle in communicating her approval of Carrie. Almost 25 years ago now, during the long friendship that preceded our first date, my mother would not call Carrie by name. She just referred to her as "the pretty one."
Almost five years ago, my mother sent me my grandmother's obituary to edit and punch up. My grandmother asked me to write the eulogy for my grandfather in 1996, then my mother had tapped me to write a eulogy for her mother. Interestingly, when my mother was talking to Carrie about her own obituary, she said she didn't want me anywhere near it. She said: "No way. He'll make me sound like a cross between Mother Theresa and Hillary Clinton."
No mom. I wouldn't have traded you for either one of them. Or both. Not on their best days.
Postscript:
The desire to not write about my mother's death, 54 hours ago, is not rational.
It traces, improbably, to a line in Nietzsche that I somehow internalized: "The poet behaves shamelessly towards his emotions; he exploits them." I read that line about 25 years ago and misremembered it. Looking tonight to see which one of the two of his works I read that summer contains that gem (It is Beyond Good and Evil) I see through the magic of Google that the real quote says "The Poet behaves shamelessly towards his experiences; he exploits them." That trace-back is improbable because I think Nietzsche was a loon and cannot explain why his opinion should stop me from doing anything.
Except that it would feel shameful to exploit my mother's passing for any reason.
This week I followed a link to an interview with a man I grew up with. Before Joel Peckham was a published poet, essayist, and professor, he was an 8th grade football player called Jo Jo teaching me how to play center on our team. His dad was the coach, and when I said I wanted to learn, his father threw a ball at him with a simple set of instructions. "Jo Jo, teach him."
In the midst of that interview, Joel was asked why he writes. His answer is my answer: "I don't know how to not write." These will not be the last words I write about the loss of my mother. They may not be the best. They are just the first. I had never envisioned this as a confessional blog, but as a place to write about creating. But I've been at this craft long enough to know you write what you've got. Tonight I have loss, I have hope, and I have memories.