It was quite a rush.
When people asked me what I did for a living, I could just say "I'm a writer."
If they pressed, I'd say I wrote for a newspaper – "right now." In the right setting – where it wouldn't come out sounding pompous – I'd allow as how "I am what I wanted to be when I grew up."  When the census form came and asked me for my profession, I answered truthfully: Writer.
After a few years, I had moved from part-time at a weekly paper to full-time at a regional daily. Although the intervening years have obscured the details, I think it was during a drive home at 4 a.m., possibly in a snowstorm, that I realized that being a newspaper reporter was the best job and the worst career possible for me.
Even in childhood I was someone to whom others would tell their stories. Some blend of empathy, personal experience and the working vocabulary my parents passed along made it easy for me to write the stories I heard.  Just a few months into the job, I did a profile on the nice woman who had just been promoted to run the bird sanctuary on Moose Hill in Massachusetts.  We sat and chatted for an hour or so, I took a grainy photo of her, and a few days later a 24-inch profile showed up on the inside pages of my hometown weekly. I can't recall if she phoned me or dropped me a note after it was published, but I remember what she said. She had thought her life had meandered without plan or pattern. When she read her profile, she saw the threads I had teased out, how all the pieces fit. The story made so much sense.
The nice lady who got a new liver from an unfortunate motorcyclist would write me a note a month after she was featured in my story during an organ transplantation awareness campaign.  She had put the story up on the bulletin board at work and it had opened conversations and lines with co-workers she had known for years, but who never got it. Until then.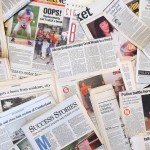 The best job.
But also the worst career. After 5 promotions in four years across three papers, it was time to watch my younger sister graduate college. I put in for the day off so I could be there. My new editor told me he was sorry, but someone else in the bureau had already put in for that day off and part of his management overhaul of our bureau was that we couldn't possibly have two people out in a single day. Our bureau of 9 reporters couldn't possibly get by with just 7.
I spoke to the editor-in-chief of the paper, and she said of course I could go. I didn't have to come to the part, which I had rehearsed in a mirror, where I said that the day before graduation would be my last day with the company. Harvard graduations are quite a thing. Czech President Vaclav Havel had spoken the previous year, and if we were all going to get seats, I had to get there about dawn and stake them out. Then my parents and elderly grandmother could arrive at a decent hour.
It is a little fuzzy now, but I think I still had some seething in my belly as I sat in that light rain. Five promotions, the most senior reporter in my bureau, weeks of built up vacation and sick time, 10 to 20 hours of unpaid overtime donated to the company every week and getting the day off to attend the graduation had required an act of senior management.  And twisting the knife just a little bit, my sister (who is admittedly 30 IQ points ahead of me even when she is anesthetized ) was graduating into a job making exactly twice my salary after those raises.
The best job. The worst career.
As I remember it, my sister and I were both wet from swimming in a pool a few weeks after graduation and I was blabbing about the stress and frustration of that job I loved. I tend to think like light bouncing off a disco ball. She tends to think like a laser beam cutting a diamond. She asked, very factually, what I wanted to really do. I said I wanted to write books.
"Is the job you have getting you closer to doing what you want to do?"
"No."
"That is your answer."
That was my answer.  I failed to heed the warning that I had long attributed to John Steinbeck that if one wishes to write fiction, you should not take a job in PR, advertising or other semi-creative enterprise. Take a job in a sardine cannery. Turns out, if Steinbeck said that, Google doesn't know anything about it.
When Mark Bryan, author of The Artist's Way, The Prodigal Father and Codes of Love, was getting his master's degree at Harvard years ago, we struck up a brief friendship – largely around writing. We were at his flat one day, the draft of, I believe, Codes of Love open on a computer, when he told me "You only get so many words a day. Be careful how you use them."
It took me too many years to digest and make use of that advice. It is why I now write in the morning. It is why the job I've had writing for a government agency did not stop me from finishing the draft of my novel.  My word clock, whether it be real or imaginary, resets when I sleep. Now, I write in the morning, before I can pour words into press releases, legislative testimony or any of the rest of it.
It is getting me closer to what I want to do. Finally.